Eva Doyle's leadership book:
The Reluctant Leader: From Technical Expert to Human Expert
You're a technical expert, with a high degree of technical competency. Yet you have been promoted into a leadership position – or are thinking about becoming a manager.
Either way, it's a big step. You need the insights and guidance to change your thinking, adjust your communication style, and learn new interpersonal skills. You need to develop leadership skills.
After a rocky start in her early leadership roles, Eva Doyle, MBA, successfully made the transformation into an exceptional leader. This book draws on her 20+ years of management experience, leading teams small and large – much of it leading departments that specialized in technical skills. With a background that spans banking, an agency of the Department of Defense and a software company, Eva believes anyone can cultivate leadership skills.
Read this book to learn how to:
Decide if you truly want to step into a leadership position
Navigate your internal transition from expert to leader
Learn to become comfortable with your authority
Get to know your team and their strengths/weaknesses
Comfortably offer praise and negative criticism
Get the practical guidance you need with The Reluctant Leader.
This is no pie-in-the-sky, rah-rah cheerleader book that CEOs will read on airplanes. Instead, this is a real-world, often humorous leadership guide for technical experts who are stepping into a leadership position and are determined to be an effective – even exceptional – leader.
In this book, emerging leaders learn how to find allies and mentors in the workplace, help other employees develop leadership skills, encourage co-workers to act like teammates, and set the right tone every single day. In short, you learn how to become a leader who has more control, more influence, more contribution.
Are you ready to make the exciting (and challenging) transformation from technical expert to exceptional leader?
If you've been asked to step up – or you think it's time to take on a new role – you need to take proactive steps NOW. The Reluctant Leader gives you the insight, guidance, and skills to become an exceptional leader.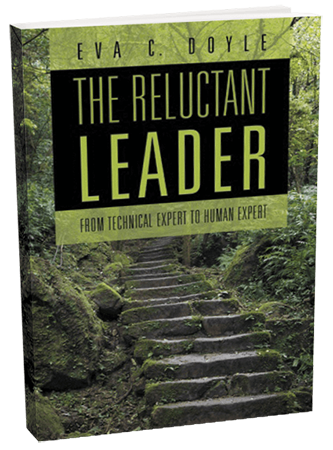 Buy The Reluctant Leader now
AND COMING SOON...
Eva Doyle's companion guide:
The Reluctant Leader Workbook